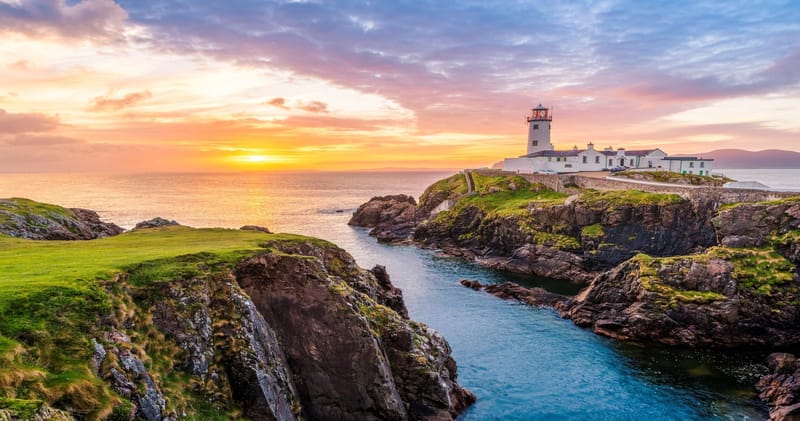 Why Settle in Ireland ?

Ireland is a fantastic country with wonderful people, cultural and music with an integrating community, State of Art Education system, with good nightlife and good jobs and industries. Ireland has its native language and cultural society but English is widely used in all sectors (business and education) of the country.
With great beaches where you can surf and have family days out which are within reach. Music is native part of the Irish culture.
It has become and Industrial hub with top companies setting shop in Dublin. Ireland has the lowest Corporate tax in the world which makes it the best country to settle. The carrier scope is endless with great opportunities for all walks of life.
Due to this Ireland has become more multicultural and due to this the country has become more far-reaching and varied in schooling.
It is a small sized country with easy and reachable destinations for weekend family trips. Infrastructure available linking all major cities making it easier to travel without hassle.
In Spring to Autumn, the music is filled in the air with food and family festivals with delicious food. The weather is cold with rainy days and the summer are quite hot.
Education System:

Every parent wants their child/children to have the best education they can provide.
This is compulsory for the ages 6 to !6 or till a child has finished 3 years of Second level of education.
The education system consists of primary, second, third-level and further education. State-funded education is available at all levels, unless if you choose to send your child to a private school.
The Pre-School is funded by privately owned child care facilities, some pre-school initiatives are focused on children at risk are funded by the Department of Education and Skills.
Primary schools are generally private owned but are funded by the government.
Second year of Education.
This is very important for all children as this is where they decide on the carriers, they have to do a State Exam and according to their results they are allocated to various colleges. This can be state funded or if otherwise you can decide to a private one.
3 Year Level Education.
Ireland has state of Art Universities where the young adults can make their dream come true.
Some universities are self-governing and offer degree programs such as Bachelor, Master or doctorate level.
There are facilities available in the educational system for Special needs children.
Below are the Approximate costs for Education:
| | | |
| --- | --- | --- |
| Education Tier | Annual Cost | Lifetime Cost |
| Primary School | €823 | €6,584 |
| Secondary School | €1,735 | €10,410 |
| College | €8,361 | €33,444 |
Standard of Living in Ireland:

A country with a high quality of life, friendly community/culture and an excellent education system.
The cost of living in Ireland is high, any cost of a relatively good service is 25% higher than any EU average, with high prices on rent, transportation and childcare. There being fewer government services like on childcare and housing so the people have to rely on the private companies, as no competition is there from the government therefore the prices are on the higher side.
The cost of Living manageable in Ireland but depends where your live. Dublin is the most expensive city. The highest expense is buying your own property in addition too groceries, healthcare and education.
Although most health care is free and do not need to pay for any insurance policy unless you decide to do so to be able to get private health care.
Housing:

An average Semi-detached house would cost approximately EUR 216,000.00 + Survey and lawyer fees.
Local taxes so as council tax are lower comparatively.
Renting is expensive and this depends on the area you would like to live in. Below are the approximate costs for renting:
| | |
| --- | --- |
| Monthly rent for 85 m2 (900 sq ft) furnished accommodation in expensive area | €2,302 |
| Monthly rent for 85 m2 (900 sqft) furnished accommodation in normal area | €1,700 |
| Utilities 1 month (heating, electricity, gas ...) for 2 people in 85m2 flat | €144 |
China Town in Dublin

You can eat at the finest mouth-watering restaurants in China Tow in Dublin. With Authentic ambience with the finest ingredients.
With restaurants, takeaways and the Asian Supermarkets you cannot miss the food or ingredient you need. And this is in a walking distance close to each other.
Types of food Available:
Chinese
Japanese
Korean
Indian
Mandarin
Szechuan
Cantonese
Vietnamese
Shopping in Ireland

With fantastic shopping centers and well displayed show rooms you can buy anything and everything within your budget. Shops are filled with international high street chains and the largescale Dunnes (Ireland's budget department store). And few steps away, there are a host of independent shops, markets and commercial complexes that add to the Dublin experience just as much as its novel bars, contemporary restaurants and hotels.
Best Places to shop:

Brown Thomas
Avoca
Liberty Market
Hodges Figgs (Book Store)
St George's Arcade
Dundrum Shopping Centre
Cow's Lane
Designist
Howth Market (Weekend Fish Market on the coastal line. Can be a day out)
Powerscourt Centre
And many more!!!!!!!!!!!
Dublin's has some of the best parks:

Ireland ranks 14th out of 156 on the world happiest Report.
The most popular are:
Phoenix Park. It is the largest urban park in Europe
Irish National War memorial park
St Anne's Park
National Botanic Park
St Stephen's Green
Iveagh Gardens
Killiney Park
Merrion Square
Blackrock Park
Marlay Park
Tolka Valley Park
The peoples Park
These are the Irelands most best parks where you can wind down and relax se the best Sculptures, best flower beds and abundant amount of forest. Be advised that you should always be carrying your warm clothes as climate does change.
Medical System in Ireland:

Medical in Ireland is basically in two Tiers
All people who live in (settled) in Ireland are eligible to free public health service with is under the auspicious control of the Health care Executive and funded by the general taxation and subsidised fee service. But attending without a referral to the Emergency service (A&E) without prior attending to your General Practitioner there is a charge of €100 per visit.
Once you settle in Ireland you will get a Medical card which entitles you to free hospital care and GP Visits. Prescriptions have a charge unless you have underlying conditions then you are exempt from the fees.
You can have an additional health Insurance but this is entirely up to individuals to decide.
Transport:

Bus transport is the main type of transport within the cities in Ireland. There are Train systems in place between major cities which is the fastest way to travel with the country. You can also drive around but it more expensive but sometimes it is convenient. Biking is also an alternate with cities with the Bike to Work Scheme in place. This is a scheme that the government gives you a loan if you are working and is deducted from your salary Tax free. There is also a Bike Sharing scheme in place with more than 100 stations in Dublin itself. There is an annual Membership fee of €25 for joining the Bike sharing scheme.
If you come in from a foreign country you are allowed to drive for 12 months and then convert your licence an apply for one in Ireland. These are the country licences that can be accepted for changeover: Australia, Gibraltar, Guernsey, Isle of Man, Japan, jersey, South Africa, South Korea, Switzerland, New Zealand, Taiwan, and the Canadian Provinces of Ontario, Manitoba, Newfoundland and Labrador.
Major cities transport network is made up of Buses, trains and trams. Theses are the most utilised services by the population.
Subway systems are not available but Metro is in place and commuter trains are the best in and out of Dublin.
Public transport costs are paid in cash, you must have the correct fare to pay before you take a journey. Otherwise you need to purchase a "Leap Card" which is smart card you can top up in Store and online. These can be used in Dublin, Cork, Galway, Limerick and Waterford. Most of the fares are discounted if you use this card.
So, In A Nut Shell:
When you arrive in Ireland your new home for the future for you and the family. As you would firstly find your bearings you would also like to do:
1.Check out your neighbourhood. (Check where you can buy your daily needs fruit, Veg and meat supplies)
2. Do a practise Run Commute. (this is to learn the Bus, Taxi and Train/Tram services)
3.Health and fitness (check where you can run or what Gym facilities are available)
4. Get Social (meet people and neighbour and make friends).
5. Sightseeing (see the wonders of the world)
And finally, there is so much technology now a days you can join social web platforms a build your network which is the best way forward.
WELCOME TO IRELAND !!

*** To get further personal consultation, please fill up an initial assessment form and contact us by booking appointment form so that our consultant can send to you our "Ireland Residency Program Brochure", and arrange time and date for further discussions. Our consultants are Cantonese and English speakers.